Machine Learning for Factor Investing
2021-04-11
Chapter 1

Preface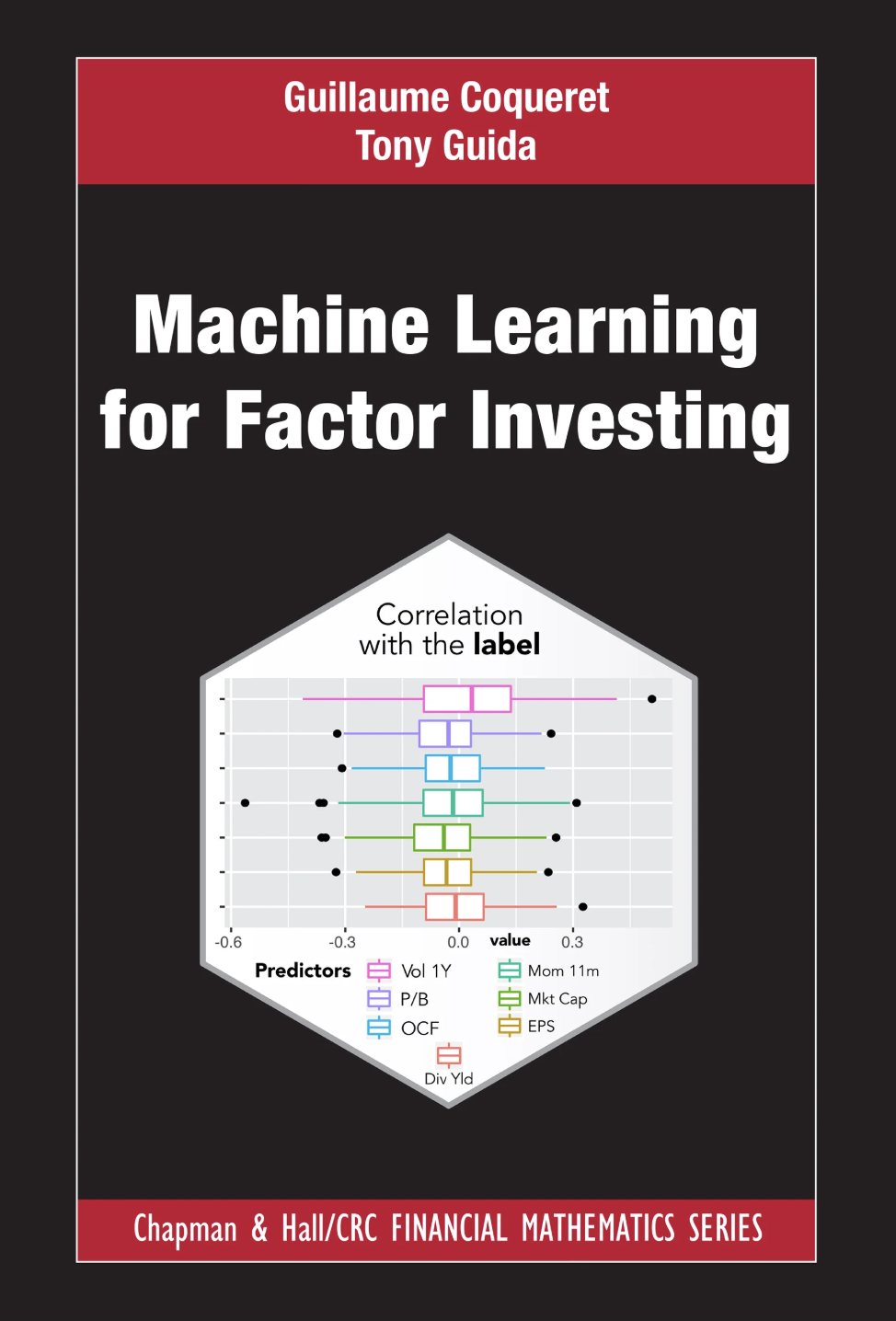 This book is intended to cover some advanced modelling techniques applied to equity investment strategies that are built on firm characteristics. The content is threefold. First, we try to simply explain the ideas behind most mainstream machine learning algorithms that are used in equity asset allocation. Second, we mention a wide range of academic references for the readers who wish to push a little further. Finally, we provide hands-on R code samples that show how to apply the concepts and tools on a realistic dataset which we share to encourage reproducibility.
The printed version can be bought on the publisher's website or on Amazon (US), on Amazon (France) and Amazon (UK).
A short list of difference between the published and the online version:
corrected typos
updates references
the section on tabular networks (under development in Chapter 7)
References
Abbasi, Ahmed, Conan Albrecht, Anthony Vance, and James Hansen. 2012. "Metafraud: A Meta-Learning Framework for Detecting Financial Fraud." MIS Quarterly, 1293–1327.
Bache, Stefan Milton, and Hadley Wickham. 2014. "Magrittr: A Forward-Pipe Operator for R." R Package Version 1 (1).
Baesens, Bart, Veronique Van Vlasselaer, and Wouter Verbeke. 2015. Fraud Analytics Using Descriptive, Predictive, and Social Network Techniques: A Guide to Data Science for Fraud Detection. John Wiley & Sons.
Bhattacharyya, Siddhartha, Sanjeev Jha, Kurian Tharakunnel, and J Christopher Westland. 2011. "Data Mining for Credit Card Fraud: A Comparative Study." Decision Support Systems 50 (3): 602–13.
Blank, Herbert, Richard Davis, and Shannon Greene. 2019. "Using Alternative Research Data in Real-World Portfolios." Journal of Investing 28 (4): 95–103.
Brown, Iain, and Christophe Mues. 2012. "An Experimental Comparison of Classification Algorithms for Imbalanced Credit Scoring Data Sets." Expert Systems with Applications 39 (3): 3446–53.
Cong, Lin William, Tengyuan Liang, and Xiao Zhang. 2019a. "Analyzing Textual Information at Scale." SSRN Working Paper 3449822.
Cong, Lin William, Tengyuan Liang, and Xiao Zhang. 2019b. "Textual Factors: A Scalable, Interpretable, and Data-Driven Approach to Analyzing Unstructured Information." SSRN Working Paper 3307057.
Cornuejols, Antoine, Laurent Miclet, and Vincent Barra. 2018. Apprentissage Artificiel: Deep Learning, Concepts et Algorithmes. Eyrolles.
Dixon, Matthew F., Igor Halperin, and Paul Bilokon. 2020. Machine Learning in Finance: From Theory to Practice. Springer.
Du, Ke-Lin, and Madisetti NS Swamy. 2013. Neural Networks and Statistical Learning. Springer Science & Business Media.
Gentzkow, Matthew, Bryan Kelly, and Matt Taddy. 2019. "Text as Data." Journal of Economic Literature 57 (3): 535–74.
Goodfellow, Ian, Yoshua Bengio, Aaron Courville, and Yoshua Bengio. 2016. Deep Learning. MIT Press Cambridge.
Hastie, Trevor, Robert Tibshirani, and Jerome Friedman. 2009. The Elements of Statistical Learning. Springer.
James, Gareth, Daniela Witten, Trevor Hastie, and Robert Tibshirani. 2013. An Introduction to Statistical Learning. Vol. 112. Springer.
Jha, Vinesh. 2019. "Implementing Alternative Data in an Investment Process." In Big Data and Machine Learning in Quantitative Investment, 51–74. Wiley.
Ke, Zheng Tracy, Bryan T Kelly, and Dacheng Xiu. 2019. "Predicting Returns with Text Data." SSRN Working Paper 3388293.
Kearns, Michael, and Yuriy Nevmyvaka. 2013. "Machine Learning for Market Microstructure and High Frequency Trading." High Frequency Trading: New Realities for Traders, Markets, and Regulators.
Loughran, Tim, and Bill McDonald. 2016. "Textual Analysis in Accounting and Finance: A Survey." Journal of Accounting Research 54 (4): 1187–1230.
Mailund, Thomas. 2019. "Pipelines: Magrittr." In R Data Science Quick Reference, 71–81. Springer.
Markowitz, Harry. 1952. "Portfolio Selection." Journal of Finance 7 (1): 77–91.
Mohri, Mehryar, Afshin Rostamizadeh, and Ameet Talwalkar. 2018. Foundations of Machine Learning. MIT Press.
Ngai, Eric WT, Yong Hu, YH Wong, Yijun Chen, and Xin Sun. 2011. "The Application of Data Mining Techniques in Financial Fraud Detection: A Classification Framework and an Academic Review of Literature." Decision Support Systems 50 (3): 559–69.
Ravisankar, Pediredla, Vadlamani Ravi, G Raghava Rao, and Indranil Bose. 2011. "Detection of Financial Statement Fraud and Feature Selection Using Data Mining Techniques." Decision Support Systems 50 (2): 491–500.
Sirignano, Justin, and Rama Cont. 2019. "Universal Features of Price Formation in Financial Markets: Perspectives from Deep Learning." Quantitative Finance 19 (9): 1449–59.
Sutton, Richard S, and Andrew G Barto. 2018. Reinforcement Learning: An Introduction (2nd Edition). MIT Press.
Wang, Gang, Jinxing Hao, Jian Ma, and Hongbing Jiang. 2011. "A Comparative Assessment of Ensemble Learning for Credit Scoring." Expert Systems with Applications 38 (1): 223–30.
Wickham, Hadley, Mara Averick, Jennifer Bryan, Winston Chang, L McGowan, Romain François, Garrett Grolemund, et al. 2019. "Welcome to the Tidyverse." Journal of Open Source Software 4 (43): 1686.